A cat name generator is a tool that generates cat names. It is primarily used by people looking for inspiration when naming their new cat or kitten. The generator lists names, often organized by various themes or attributes, to help cat owners find a name that fits their feline partner.
Advantages of Cat Name Generator:
Inspiration: Naming a cat can be innovative, and a name generator can provide fresh ideas by offering a wide range of calling name options. It offers a convenient way to explore different names and discover unique or unusual possibilities.
Theme-based Naming: Some cat owners may prefer to give their cats names based on a distinctive theme, such as nature, myth, legend, or popular culture. A cat name generator often includes themed categories, making finding words that fit a particular theme easier.
Decision-making: Selecting a name for a new beloved cat can sometimes be complicated and overwhelming, especially if there are many options or if the cat is a common pet of family members or roommates. This cat name generator can simplify decision-making by providing a list of possible names for everyone to consider and discuss.
Personalized Naming: The Cat name generator may allow owners to input specific characteristics or preferences about their cat, such as gender, color, or personality traits. The generator then suggests names that align with those particular details, helping cat owners find personalized and fitting words for their pets.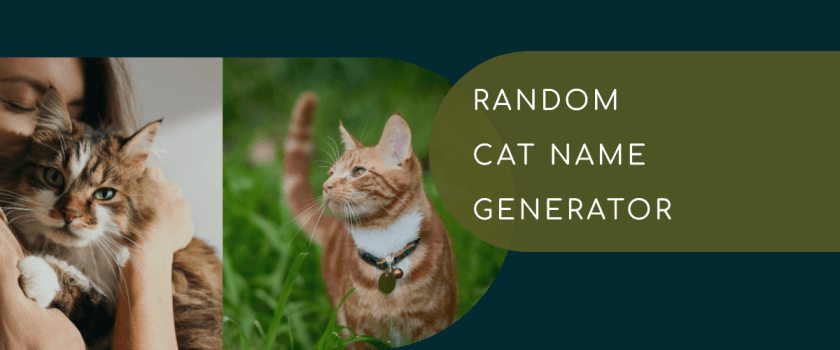 Popular Cat Names
There have been many popular Cat Name throughout the history, here is a list of some most popular cat names:
Find more Popular Cat's Name on Wikipedia
How Random Cat Name Generator works ?
Our Random Cat Name Generator utilizes a vast database of carefully curated names inspired by various themes. With just a button click, the user will be presented with a randomly generated name that could fit their furry pal friend ideally. Whether seeking a playful and whimsical name or something more sophisticated and regal, our generator caters to various preferences.
Start generating names now and embark on a thrilling journey to discover the ideal moniker to capture your cat's true essence!