Random Theme Generator for writing stories is a tool that renders random themes that can enlighten writers to come up with fresh and distinctive story concepts.
Here are a few examples of theme:
Immortality
Chance
Recover
Bad Luck
Summer Haze
Umbrella
Advantages of Random Theme Generator:
Inspiration: A theme generator can deliver authors with new and unique ideas for their writing.
Collaboration: When collaborating with other writers or participating in writing workshops, a theme generator can facilitate selecting a common theme.
Efficiency: Reaching up with amusing and captivating themes can be time-consuming.
Adaptability: Authors may need to write on specific themes or topics for various reasons, such as meeting the requirements of a writing contest, addressing a particular audience, or exploring a trending subject.
Diversification: Authors may find themselves clinging to specific themes or genres they are comfortable with or familiar with.
Are you looking for new ideas? Thinking about new ideas is hard but don't worry about it. Let's look at the Random Theme Generator tool, a free Web App tool that generates themes using three random words.
You can get ideas and create stories using these three words of the theme. Just click on Generate button and get the random pieces. Our Random Theme Generator will make your ideas tremendous and your vision bright!
This tool uses a database of various themes and randomly selects one or more to show to the user. The rendered themes can be used as a starting matter for writing a narrative or to support overcoming writer's block by delivering a new inclination or philosophy.
What can you do with Random Theme Randomizer Tool?
It helps to generate different themes of random words, and by using them, you can easily get the vision of your stories and pick one or more.
The themes are created using a combination of different random words related to Weather, Places, Occupations, Things, Relations, and Nature.
This theme picker is simple and easy to use, and it provides you with some of the most popular words, themes, and ideas.
Online Random Themes Generator tool works well on Windows, MAC, Linux, Chrome, Firefox, Edge, and Safari.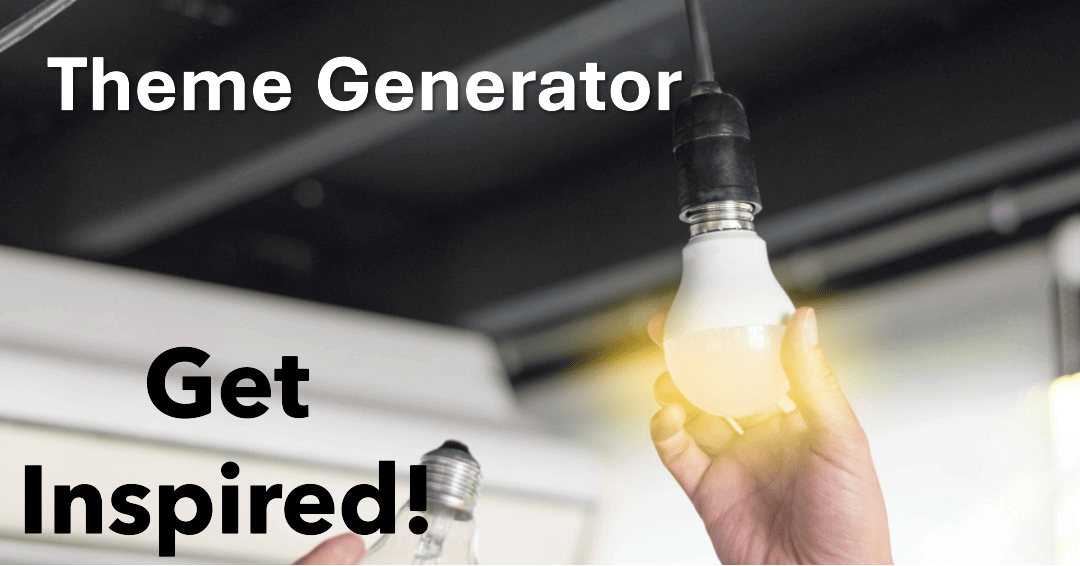 Theme Generator FAQs:
Why do you need to use Theme Generator?
It can benefit authors for several reasons, such as Inspiration, Efficiency, Diversification, Adaptability, and Collaboration. It can be a valuable tool to enhance creativity, efficiency, and exploration in their writing process.
Can I use, share and copy themes generated by Random Theme Generator?
We have used the internet and research to gather these data for a purpose to help authors, writers, students, and anyone who is interested in writing discuss these themes. So we do not claim any copyright ownership. Users can use these themes and also note these can be used by many users just like you.