Random Candy Generator is a fun online tool that generates random candy names. Welcome to the Random Candy Generator, your sweet source of creative candy stimulation! Whether you're a confectionery aficionado, a candy store owner, or just someone with a sweet tooth and a vivid fantasy, our generator is here to satisfy your candy cravings.
Our mission is simple: to spark your creativity and bring a dash of sugary treat into your life. With a button click, you can render unique and impulsive candy names perfect for various uses. Let's explore how you can make the most of this candy-naming magic!
Creative Ideas for Using Random Candy Names:
Candy Branding: Are you starting a new candy business or looking to refresh your product line? Use our candy name generators to create catchy and memorable candy brands that captivate your customers.
Party Planning: Are you hosting a candy-themed party or event? Generate unique candy names for your treats, making your party stand out and leaving a sweet impression on your guests.
Creative Writing: If you're a writer, add some whimsy to your stories or novels by incorporating our randomly generated candy names as personality names or fictional candy brands within your narrative.
Art Projects: Use our candy names to inspire candy-themed artwork illustrations or create your candy packaging designs.
Brainstorming: t can be a valuable brainstorming tool for individuals, teams, or corporations to develop new concepts or ideas related to marketing campaigns for candies. This tool can help to kickstart creative thinking and help break through creative blocks.
Popular Candies to Inspire You:
1. Chocolate Kisses
2. Gummy Bears
3. Sour Patch Kids
4. Jawbreakers
5. Cotton Candy Clouds
6. Jellybean Jamboree
7. Caramel Swirl Delight
8. Peppermint Pizzazz
Start exploring our candy name generator now, and let your imagination run wild in the world of sweets. Create, dream, and indulge in the endless possibilities of candy naming!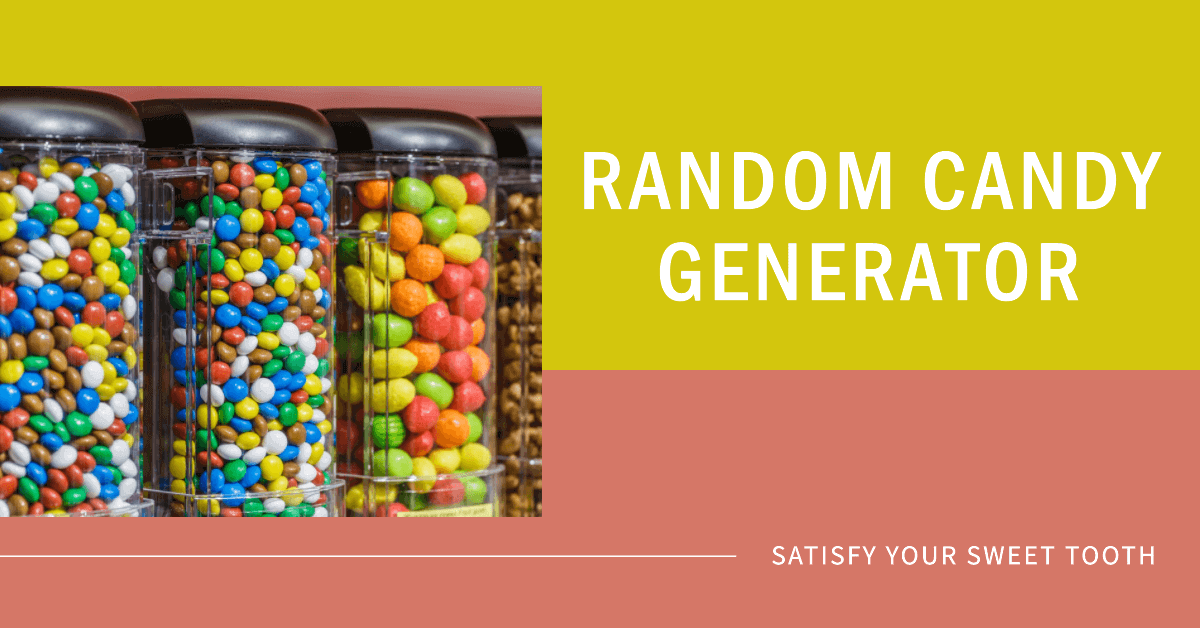 Know more about Candy on Wikipedia